BISHAMON
Bishamon Industries is a leading manufacturer of high-quality material handling and safety products ideal for both industrial & commercial applications. Its headquarters is located in Ontario, California, USA. Read More
Material Handling
EZ-SLP
BX-25
M906AGR
LX-100W
FLOOR TT
L5K-ABS
L5K-4872
L5K-3256
L3K5K-FC
L3K-TT
L3K-3648
L3K-2848
Material Handling
Filter
Includes a wide range of portable carts, ramp lifts, accordion bellows and foot controls to increase and extend the usability of scissor lift tables
Pneumatic / hydraulic pallet positioners and level loaders to lower and raise loads, making the pallet loading and unloading easier, safer and faster. Made from high-quality steel and have a maximum lifting capacity of 4500 lb
Used for lifting large or heavy equipment to convenient working heights to reduce injuries and to increase productivity. Available in 1 and 1/2 hp variants with a maximum load-holding capacity of 5000 lb
Ideal for displays, paint spraying, as well as assembly and inspection operations. Have a maximum lifting capacity of 4500 lb and feature a rubber layer on top to minimise the chances of moving or slipping of workpiece while rotating
About Bishamon
The company's catalogue includes scissor lift tables, turntables, hydraulic pallet positioners and pneumatic pallets. Bishamon scissor lift tables are used to lift large or heavy equipment with a maximum load rating of 5000 lb. These tables feature an electric, full-perimeter toe guard around the platform for optimum operator safety. They have captured scissor rollers for maximum stability.

Things To Consider
Cross-Reference Alternatives
Bishamon part numbers cross-reference to various Vestil & Southworth products. So, if you're looking for a Bishamon part that is either obsolete or out of stock, chances are we have the equivalent item available.
Why Us?
We supply or source all US MRO parts to over 60 countries worldwide. We got your MRO requirements sorted with over 5000 brands to choose from and more than 2000000 products in our catalogue.
Shipping
These Bishamon products are suitable for standard courier shipment and not air freight.
Major Trade Names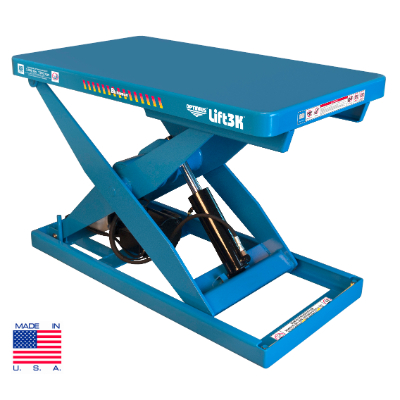 OPTIMUS LK-Series Lift Tables
They are designed to handle capacities of 2000, 3000 and 5000 lb. The contoured scissor legs and large torque tube increase rigidity and stability. These units increase worker productivity and safety by eliminating unnecessary lifting, bending & stretching, which can lead to fatigue and injury. For added stability, these units include entrapped scissor rollers. All pivot points are equipped with self-lubricating, maintenance-free bushings....Read more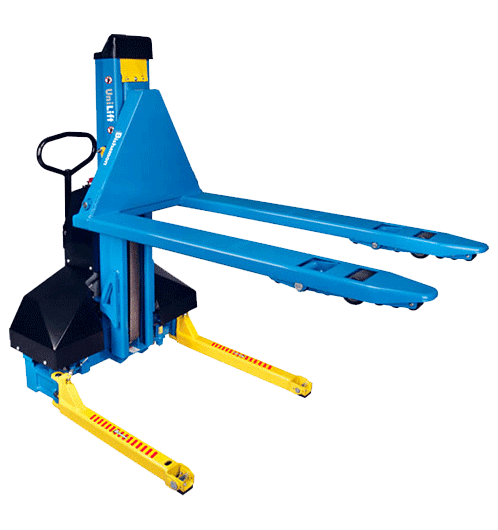 UniLifts
UniLift pallet handlers are compatible with standard GMA pallets, 48 x 40 inch CHEP pallets and skids. These units are used to transport and lift loads. For easy pallet entry and exit, they have a multi-roller fork entry system. They include a foot brake on the steering wheel. The electronic operator console includes 'raise' & 'lower' buttons, a dual-function key / battery disconnect switch, an outrigger position LED and charger status & battery condition LEDs....Read more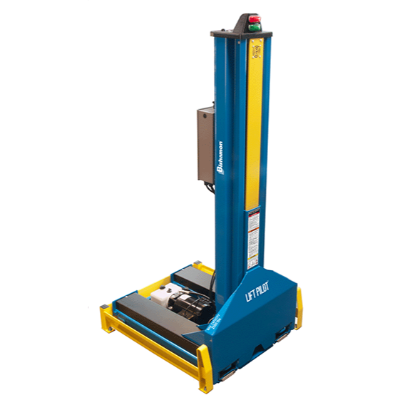 Lift Pilots
These pallet positioners enable pallet trucks to provide completely unobstructed access with no ramps, bumps or obstacles. They have a space-saving design, telescoping forks, pallet presence sensors and a patented, foot-clear safety system. The operator has complete access to the sides and ends of the pallet for easy loading and unloading....Read more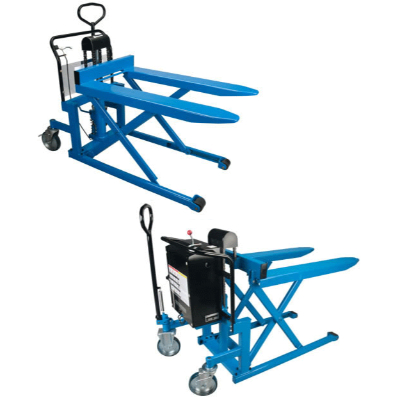 SkidLifts
LV & LVE SkidLifts are tough, fork-style lifts that raise loads to a comfortable working height. They have easy-to-use hand and foot controls. For improved cylinder wear performance, these units have twin heavy-duty chains with a 2:1 cylinder lifting ratio. The lower captured roller channel improves stability. The polyurethane wheels with roller bearings provide better manoeuvrability....Read more
Frequently Asked Questions
How does a lifting table work?
Hydraulic fluid is forced into or out of hydraulic cylinders to raise and lower hydraulic lift tables. When hydraulic fluid is forced into a cylinder, the cylinder strokes outward, forcing the scissor legs apart.