BUCKHORN
Buckhorn, a Myers Industries Company, provides material handling units to protect your products, improve workflow, reduce operating costs and increase profitability. Its headquarters is located in Milford, Ohio, United States. Read More
Material Handling
BG4840460263000
SW241508A206000
SW3215080206000
SW4815080206000
DL2420120201001
TS3230020010000
TS4845030010000
TS4840020010000
BG4840332063002
39160
BN4845252010000
BN4845342010000
Material Handling
Filter
Suitable for storage of tools, machinery components and workpieces in warehouses and automotive manufacturing facilities. Feature an attached lid for a spill-proof transit. Variants available in 40, 80 and 100 lb load capacities
Wide range of container lids suitable for use with open-top containers for shipping & storage applications. Feature a durable yet lightweight design for ease-of-installation and providing protection against damages caused by fluids & abrasive chemicals
Suitable for storing and organising tools or components in supermarkets and manufacturing & automotive facilities. Feature high-density polyethylene construction for eliminating damage against impacts. Available in 700, 900, 1200, 1800, 2000 & 2500 lb load capacity options
Designed to support goods / loads and provide stability while being lifted by a forklift, erect crane or pallet jack. Feature high-density polyethylene construction for withstanding impact loads and vibrations. Offered in 1200 & 5000 lb load capacity options
Equipped with stacking rims & external ribbing suitable for storing and organising groceries and raw materials in supermarkets or other retail stores. Available in 5.5, 7.5 & 14.5 inch height variants
High-density polyethylene totes ideal for storing light-duty industrial parts and components in warehouses, processing facilities and assembly lines. Available in 8.5 & 12.375 inch height options
Things To Consider
Cross-Reference Alternatives
Buckhorn part numbers often cross-individual reference to the equivalent Akro-Mils, Quantum Storage and Lewisbins part numbers. So, if you're looking for a competitor bin that is either out of stock or obsolete, chances are we have the equivalent Buckhorn item available.
Why Us?
We supply or source all US MRO parts to over 60 countries worldwide. We got your MRO requirements sorted with over 5000 brands to choose from and more than 2000000 products in our catalogue.
Shipping
Buckhorn products on average tend to be bulky and not suitable for courier shipment. Containers are shipped in a case of 6 pieces and do not fit inside each other so dimensional weight is high. They are suitable for air or sea freight.
Major Trade Names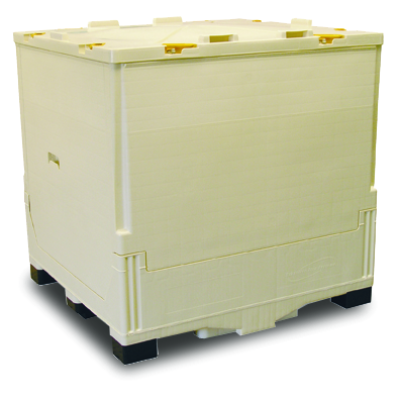 Caliber Intermediate Bulk Containers
To meet the strict hygienic standards, these intermediate bulk containers are injection moulded of FDA-compliant materials and have completely smooth surfaces. They can withstand the harshest conditions, such as pressure filling, long-term outdoor storage, rail transport and hot fill applications. These units have a bottom discharge sump built in....Read more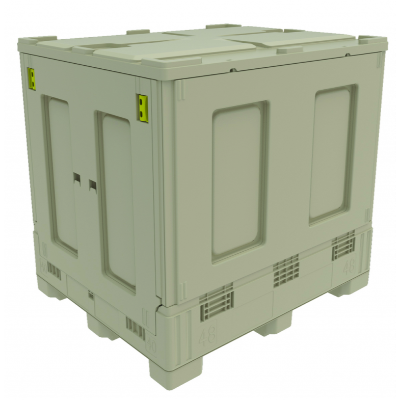 Intrepid Speciality Bulk Boxes
They are used for temporary storage, work in process, incoming ingredients, plant shipments and customer shipments. They have a hygienic design with flat, smooth surfaces to ensure maximum hygiene and ease of cleaning. Their non-sequential folding panels can be assembled and disassembled in seconds....Read more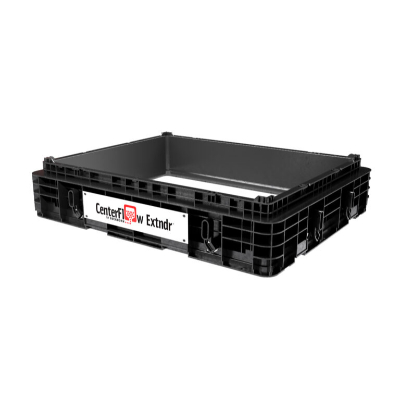 CenterFlow Containers
A side access slide gate door on CenterFlow containers allows one person to control the flow and safely remove all or part of the contents. The interior is smooth and funnel-shaped, with a 35-degree angle and a generous export port for an efficient flow of contents and complete emptying in as little as 30 seconds....Read more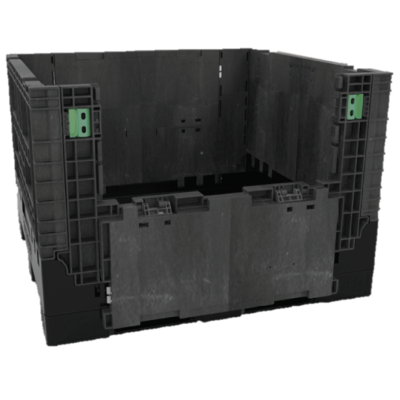 The Green Standard Bulk Boxes
These boxes are made entirely of recycled materials and are an excellent choice for automotive and manufacturing companies seeking to maximise their investment while minimising their environmental impact. For better outside storage, they have four drain holes. These units have two recessed ID tag areas on each of the four sides of the base....Read more
Frequently Asked Questions
What are the features of Buckhorn collapsible containers?
This lightweight, impact-resistant container has two access doors on opposite sides and is both maintenance-free and recyclable. From factory to field, industry to grocery, it provides sanitary use and folds down to save space.
What are Buckhorn straight wall containers used for?
These stack-only modular containers are ideal for closed-loop shipping, in-process handling and storage applications that use the same containers throughout. They have reinforced sides and bottoms for added product protection.
What is the brand's optional lid made up of?
Buckhorn optional lids are made of HDPE and are resistant to impacts and scratches, both of which are common in material handling.