EKLIND
With its headquarters in Franklin Park, Illinois, USA, Eklind Tool Company has been manufacturing a wide range of high-quality hand tools since 1923. The brand's product range includes screwdrivers, hex / Torx keys and hex key stands. Read More
Hand Tools
11113
11122
11213
11222
11509
11609
11807
11907
16103
16104
16105
16106
Hand Tools
Filter
Includes 22-piece ball-end / combination hex and Torx key sets designed for loosening or tightening hard-to-move screws. Feature an ergonomic L- / T-shaped handle for comfortable grip and increased turning power
ANSI B18.3-certified alloy steel universal hex key stands with 22 slots to store inch, metric and Torx hex keys of up to 3/8 inch diameter
ANSI- / ASME-certified hex / Torx keys made from heat-treated, quenched and tempered alloy steel. Feature an ergonomic L- / T-shaped handle for increased turning power and comfort. Ideal for working in confined spaces
ANSI- / ASME-certified, industrial-grade screwdrivers made from durable alloy steel. Can work at up to 30-degree angle to reach tight spots and ideal for use with internal hexagon socket fasteners
About Eklind
Eklind Tool products feaure alloy steel construction for structural strength to resist bending / breaking under heavy loads. Eklind T-handle hex keys feature T shaped construction with a comfortable grip handle on one size to remove screw / bolts easily using hands. These T-handle hex keys are supplied either with a stand or pouch and come in both inch and Metric sizes. Eklind ball end hex key has a ball profile on the arm that provides a 360-degree rotation with a stainless-steel or alloy steel blade.

Things To Consider
Cross-Reference Alternatives
Eklind Tool MPNs (manufacturer's part numbers) generally cross individual reference to the equivalent Beta Tools, Bondhus model numbers. So, if you're looking for hex / Torx keys or screwdrivers that are either out of stock or uncommon size, chances are Raptor Supplies has the alternate product available.
Why Us?
Raptor Supplies, a trusted Eklind Tool distributor, offers its complete range of products, such as hex / Torx keys, hex key stands & screwdrivers. We can also recommend suitable hex / Torx key sets to handle diverse application requirements.
Shipping
These Eklind Tool products are generally small in size and require compact packaging. They are suitable for courier shipment and not air freight.
Major Trade Names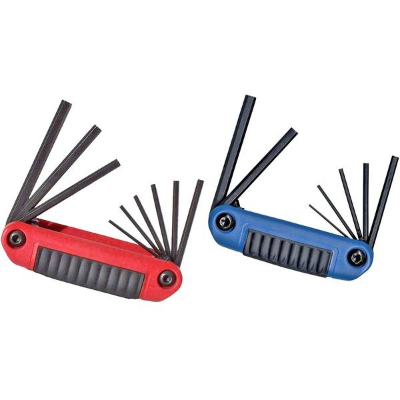 Ergo-Fold Key Sets
These fold-up sets include a variety of popular sizes of keys, Torx keys & screwdrivers with one convenient handle for preventing loosing of individual keys. They have a hard plastic shell with an ergonomic shape for a comfortable grip, slip resistance and user safety. Users can adjust a key to 90 degrees for maximum leverage and completely fold out the key to work as a screwdriver....Read more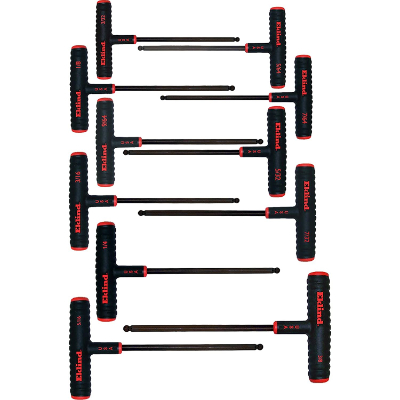 Power-T Keys
These Power-T handle keys feature a solid steel core for superior strength to resist bending / breaking under harsh usage. They are also heat treated & undergo finish / coating for maximum strength & resistance to rust. They are equipped with a dual-moulded grip that provides enhanced comfort & slip resistance for extra torque & safety....Read more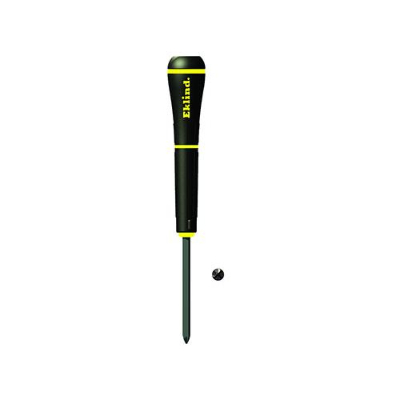 PSD Professional Precision Screwdrivers
These screwdrivers have heat-treated alloy steel construction with precision machined tips for structural strength & durability. They have large ergonomic handles with a soft over-mould for comfort and a large spinner end cap for precise fingertip control. These screwdrivers are available in tip styles like hex, ball-hex, slotted, Phillips and Torx....Read more
Frequently Asked Questions
What is the colour significance of Eklind tools?
Eklind tools are colour coded for better identification. Inch sized keys are coloured red, Metric sized keys are coloured blue, whereas the Torx keys are green colour coded.
What standards do Eklind products abide by?
Eklind products meet or exceed applicable ASME and ANSI standards for superior quality.
What are universal hex-key stands?
Universal hex-key stands can accommodate various pieces of an inch, Metric or Torx hex key for safe storage. These stands can be mounted to a wall / bench or attached to each other.