EXTRACT-ALL
Since the late 1980s, Air Impurities Removal Systems, Inc. (A.I.R. Systems, Inc.) has been manufacturing Extract-All line of air cleaning systems for ensuring indoor air quality in universities, laboratories, hospitals, jewellers & government facilities. Extract-All is a global manufacturer of air purification equipment and fume extraction systems for use in the aerospace, electronics and pharmaceutical industries. It is headquartered in Wauwatosa, Wisconsin, USA. Read More
HVAC and Refrigeration
RF-DD3
S-987-2A WHITE
B-982-1A
RF-DD2
RF-DD5
F-DD4
B-982-2
F-DD3
S-DD1
P-981-1A
F-DD1
RF-DD4
HVAC and Refrigeration
Filter
Includes exhaust collars, wall mounting brackets and Y-connectors for use in commercial and industrial buildings for enhancing air cleaning and removing smoke, dust, odours and fumes. Y-connectors feature one 5 inch inlet and two outlets either 2-1/2 or 3 inches in size



Includes replacement air cleaner filters such as carbon filters, HEPA filters & cell filters to provide filtration without any decrease in efficiency. Designed to trap odours, fumes, dust particles and smoke for removal; ideal for use with Extract-All clean air stations
Air filters with multistage filtration for removing smoke, fumes, dust and particulates; ideal for small or large scale industrial applications. Acrylic capture hoods provide backdraft source capture. Inlet collars, extractor arms, fume extractors, dust collectors and mist collector also available
About Extract-all
Extract-All product catalogue includes air cleaner filters, cabinet ventilators, dust collectors, belt drive radial blade blowers and oil mist collectors. The brand's dust collectors are designed for removal of smoke, fumes and other airborne contaminants from waste material incinerators and manufacturing plants. They feature a self-cleaning cartridge filter with a unique cyclonic drop-out feature which separates large dust particles from the 99.999% efficient fire-retardant cartridge. The brand also manufactures fume extractor arms with a long, wall-mounted swivel boom (maximum 120-inch length) to increase the arm's reach for effectively capturing soldering fumes, solvent odours and sanding dust.

Things To Consider
Cross-Reference Alternatives
Extract-All products' model numbers generally cross individual reference to the equivalent Dayton, Honeywell, Aprilaire & Ultra-Sun MPNs (manufacturer's part numbers). So, if you're looking for air cleaners, fume extractor arms & accessories that are either out of stock or obsolete, chances are Raptor Supplies has the alternate product available.
Why Us?
Raptor Supplies, an Extract-All distributor, offers its complete range of products. We can also recommend suitable accessories like exhaust collars, wall brackets & Y-connectors to handle diverse application requirements.
Shipping
These Extract-All products are small to large in size and may require compact packaging. They are suitable for courier shipment and air freight.
Major Trade Names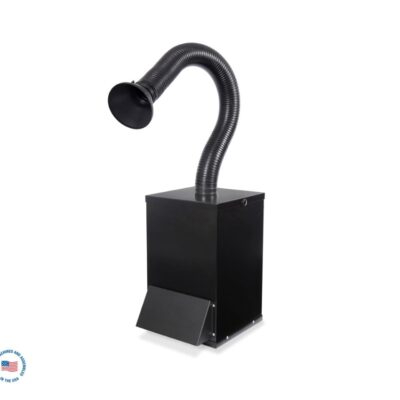 Extract-All Salon Pure Air
Extract-All salon pure air systems are specifically designed for beauty salon applications involving salon procedures like colouring, highlighting & permanent treatments that fill the indoor air with harmful chemicals and submicron particulates. These SPA systems use multi-stage filtration to lower the exposure of salon employees & patrons to fumes, vapours, odours & dust generated by various treatments....Read more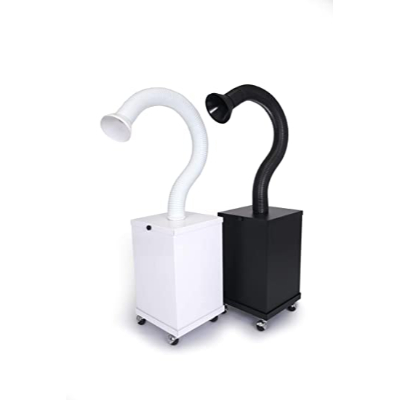 Extract-All Dental Clean Air
Extract-All dental clean air systems are used to remove contaminants like VOCs, dust, particulate matter, pathogens and biological matter from high-speed equipment, such as scalers and drills in dental applications. They use ULPA or HEPA filters to reduce the spreading of infectious diseases due to aerosols and splatter generated in dental clinics....Read more
Frequently Asked Questions
What are the standards that Extract-All products comply with?
Extract-All air cleaning & fume extraction systems adhere to OSHA-mandated standards to ensure personnel safety.
What is the difference between source capture & ambient air cleaning systems?
Source Capture air cleaning systems are installed in / around the area where contaminants are generated to minimise harmful & dangerous particulates from damaging workers' respiratory systems. Many of these systems have freely movable hoods for delivering sufficient airflow at the desired location. Ambient air filtration systems are comparatively easy to install and maintain clean airflow throughout the area. Generally, they are installed in overhead spaces to draw smoke / fumes upwards.
What are the uses of a negative air machine?
Extract-All negative air machines generate a negative pressure inside a controlled area by pulling in contaminated air, filtering it and then exhausting it.
How to select the right filter for the application?
For chemical fumes, gases, odours or vapours, use an adsorption module with activated carbon.
For fine particulates like dust, smoke or mist, use a primary particulate filter.
For applications with both visible particulate & gaseous vapours, use multi-stage filter set-ups.
How are motors inside Extract-All systems designed?
Most of our blower motors are totally enclosed and thermally protected. Blowers are also dynamically balanced. Typical motor life is 100,000 hours, depending on operating conditions, including ambient temperature, duty cycle, etc.