FAST FUNNEL
Fast Funnel offers a wide range of disposable paper funnels, available in different sizes for various applications in laboratories, garages and more. Read More
Fleet and Vehicle Maintenance
FF03-0140
FF01-0132
FF05-0120
FF04-0120
FF06-0120
FF10-0120
FF11-0120
FT12-1500
FT12-0750
Fleet and Vehicle Maintenance
Filter
High-quality disposable funnels designed to reduce mess and product loss while filling small containers such as tubes, bottles or flasks. Made from SBS virgin cardstock paperboard and have a maximum capacity of 50 Ounces. Certain models also feature an innovative backrest for hands-free use.
About Fast Funnel
These disposable oil funnels have made pouring tasks easier and contamination-proof and have reduced the risk of liquid spills. Fast Funnel's product line includes gas station paper funnels and automotive paper funnels. The company also designs small disposable funnels that are compact for storing and can fit in a wide variety of openings.

Things To Consider
Cross-Reference Alternatives
Fast Funnel part numbers often cross-reference to various Funnel King products. So, if you're looking for a Fast Funnel that is either obsolete or out of stock, chances are we have the equivalent item available.
Why Us?
We supply or source any US MRO part to over 60 countries worldwide. We got your MRO requirements sorted with over 5000 brands to choose from and above 2000000 products in our catalogue.
Shipping
These tools are small in size and require compact packaging. They are suitable for courier shipment & air freight.
Major Trade Names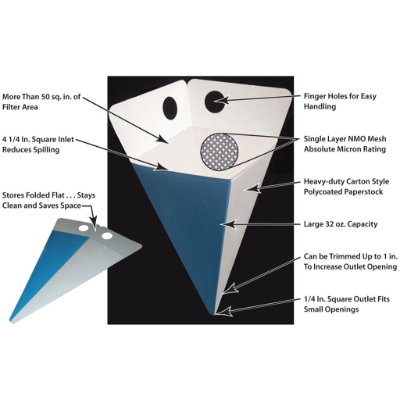 Fast Filter Disposable filter funnel
The unique design of Fast Filter combines a high-efficiency filter with a robust cardboard funnel to set a new benchmark for swift and sterile liquid delivery.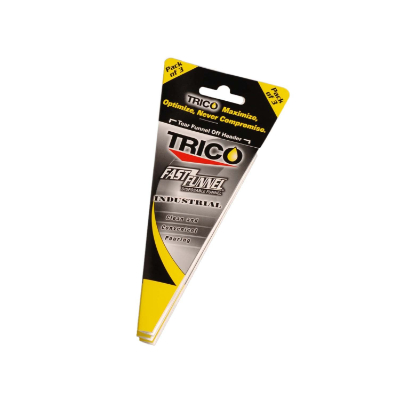 Industrial Fast Funnels
Industrial Fast Funnels from Trico offer an easy, practical and hygienic method to pour. These funnels are designed for single usage and are tidy and compact until it is detached from the header and opened. They may be used with the majority of lubricants and liquids because they are made of coated, heavy-grade paper material....Read more
Frequently Asked Questions
What is the function of safety funnels?
Safety funnels are incorporated with an auto-stop push and stop functionality for allowing the inner plunger to instantly stop any extra fluid from entering the container or tank. They prevent unwanted spills and splashes and are ideal for various applications in industrial and manufacturing units.