NORTH BY HONEYWELL
North by Honeywell provides superior respiratory protection solutions from life threatening hazards at workplaces. Acquired by Honeywell in 2008, North Safety products continue to be produced under the new name - North by Honeywell. Read More
Safety
79/1191M
T5900NBL
T5900NTK
T5900NBLS
T5900NTKS
T5900NTKA
T5900NTKTCG
T5900NTK3.0
T5900NTK5.0
T5900LBL
T5900LTK
T5900LBLS
Safety
Filter
CE-certified gloves featuring hook-and-loop tab closure for user comfort and polyvinyl chloride patches to provide protection against impact shocks in construction and mining sites
Anti-static conductive gloves made of copper-based Thunderon fibre, with a polyurethane coating on palm and fingertips. Ideal for handling electrically sensitive devices like computer components and circuit boards
Lightweight bump caps featuring a 4-point HDPE shell with pin-lock adjustment to protect users from cuts, scrapes and bruises. Offered in blue, navy, white and yellow colours
Polyethylene / EVOH / silver-shield bib and coat aprons designed to resist alcohols, aliphatics, aromatics, chlorines, ketones and esters for applications in pharmaceutical and food services
One-size-fits-all hoods designed as per ANSI Z.87.1-2010 standards for use with goggles or respirators to filter chemicals or gases out of breathing air
SilverShield Series sleeves tested to resist IEST-RP-CC005.3 particulates and extractables, and provide ASTM-739 rated permeation capacity. Feature multi-layer nitrile-formula construction with a smooth surface finish
Ideal for protection against oils, grease, petroleum products and caustics in general cleaning and food processing applications. Available in a wide range of sizes, colours, finish options and liner materials
4-point polyethylene chin straps designed for use with North-Honeywell hard hats to prevent unintentional hat falling-off incidents
Nitrile gloves with rough, leather-grade beaded cuffs to withstand abrasions, chemicals, cuts and punctures. Offered in packs of 100 pieces
Nitrile / vinyl / PVC / yarn coated gloves ideal for providing resistance against oils, grease, punctures and cuts in material handling and automotive assembly operations. Available in foam and textured finish options
Durable split cowhide leather palm gloves designed to provide excellent thermal protection in extreme low temperatures (less than -38 degrees C). Feature a waterproof vinyl liner to prevent hands from getting moist, and wing thumb and gunn-cut construction for user comfort
Designed to protect hands from blades, knives or glass in welding stations and food processing units. Feature nitrile / polyurethane / PVC coating for an extra layer of protection
About North By Honeywell
North, a subsidiary of Honeywell Safety Products, is a global manufacturer of cutting edge personnel safety equipment for applications in construction sites, oil / gas refineries and wind farms. The extensive North Safety Products catalogue comprises safety glasses, safety gloves, chemical resistant workwear, hard hats and disaster survival kits. North safety glasses are designed as per ANSI standards and feature polycarbonate lenses for protection against dust, scratch, UV radiations & fog. These safety glasses are available in both frame and frameless variants.
North by Honeywell gloves are made of innovative & lightweight materials providing excellent comfort and preventing hand fatigue. These protective gloves have a cutting edge design to offer an excellent fit, improve dexterity and ensure total adaptability to the workplace.
The company's top selling chemical resistant gloves follow EN ISO 13997 standards and come equipped with flock / interlock knit / powder free liners to provide an extra layer of protection and to absorb moisture. Choose from a wide range of half and full face North respirator masks, hard hat suspensions, valve lockout devices and PAPR accessories on Raptor Supplies, a trusted North by Honeywell distributor.

Things To Consider
Why Us?
Raptor Supplies, a trusted North by Honeywell distributor, offers its complete range of products, including anti vibration gloves, anti static gloves, bump caps, chemical resistant & disposable aprons, and chin straps. We can recommend suitable Honeywell gloves for sharp objects, heavy machinery or chemicals that expose workers' hands to hazards.
Shipping
These North by Honeywell gloves are small in size and require compact packaging. Hence, they are delivered in packs consisting of several pieces. These Honeywell gloves are suitable for courier shipment and not air freight.
Major Trade Names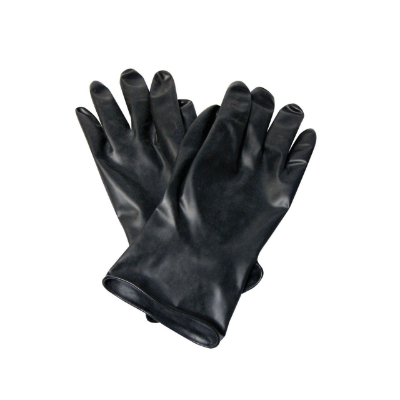 North Butyl Gloves
North Butyl gloves have the highest permeation resistance to gas and water vapour. These Honeywell gloves are highly resistant to ketones (MEK, MIBL & acetone) and esters (tricresyl phosphate, amyl acetate & ethyl acetate). They are available in smooth finish & Grip-Saf palm variants for enhanced grip. Honeywell Butyl gloves have passed ANSI / ISEA 105 - ASTM D3389-05 abrasion test, ANSI / ISEA 105 - ASTM F1790-97 cut test and EN388 test for mechanical risks from abrasion, cut, tear or puncture....Read more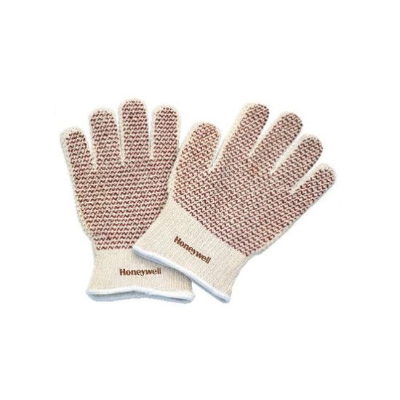 North Grip N Hot Mill Gloves
North Grip N Hot mill gloves are designed for handling very hot objects with a good grip and comfort. These gloves feature 100% knitted cotton construction lined with double face coating of nitrile dots. These Honeywell gloves feature a unique knitting technique that helps obtain a glove that conforms snugly to the hand with good dexterity. These gloves offer maximum comfort and added sturdiness. These Honeywell gloves have cotton lining that reinforces the glove's mechanical performance while absorbing hand perspiration for added comfort....Read more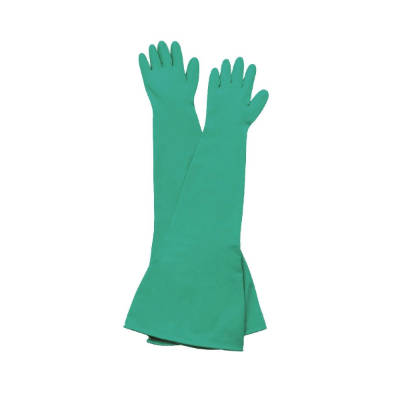 North Nitri-Box Nitrile Gloves
North Nitri-Box nitrile gloves have a one piece design that is more convenient and safer than nitrile glove and sleeve assemblies. These Honeywell gloves feature proprietary North nitrile formulation that offers great chemical resistance, mechanical protection and wearer comfort. They are light in weight and have a soft and flexible feel. These Honeywell gloves are ideal for alcohol cleaning practices and will not degrade or become slippery. They have a textured grip that provides a safer grip on both wet and dry objects....Read more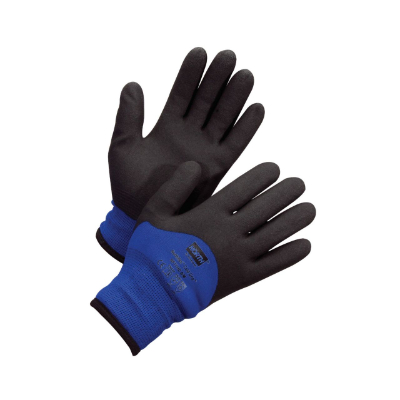 NorthFlex - Cold Grip Gloves
NorthFlex - Cold Grip gloves are heavily insulated. These gloves have a blue nylon outer shell, black insulating inner shell, black PVC palm and full finger coating. They are ideal for temperatures down to -15 degrees F (-26 degrees C). These OSHA Standard -29 CFR 1915.157 Honeywell gloves ensure hand protection where there is exposure to hazards such as skin absorption of harmful substances, severe cuts or lacerations, punctures, chemical burns, thermal burns and harmful temperature extremes....Read more
Frequently Asked Questions
What to consider when buying North by Honeywell chemical resistance gloves?
Degradation (D): It results from a change in one or more of a glove's physical properties. The most obvious forms of degradation are the loss of the glove's strength and excessive swelling.
Breakthrough time (BT): It is defined as the elapsed time between initial contact of the liquid chemical with the outside surface of the glove and the time at which the permeation rate reaches 0.1 mg/sq.m/sec. When a breakthrough occurs, the glove no longer provides adequate protection.
Permeation rate (PR): It is measured in milligrams per square metre per second (mg/sq.m/sec). It is the steady flow of the permeating chemical through the glove elastomer. The thickness of the glove plays an important role in resistance to permeation.
How to preserve Honeywell gloves for a long time?
To obtain maximum life, Honeywell gloves and other protective apparel should have chemicals removed from the surface by washing (or other appropriate methods) after each use. Honeywell gloves should be stored away from contaminating atmosphere. Punctured, torn or ruptured Honeywell gloves must be discarded.