PS DOORS
For more than 40 years, PS Industries has been offering various safety doors, sneeze guards, protective shields and flood / fall protection products. The brand's industrial safety products are widely used in the military, agriculture, food processing and energy generating / distributing industries. Read More
Fasteners
Material Handling
Power Transmission
Hardware
Pneumatics
Electrical
Safety
Hand Tools
Pumps
Motors
Plumbing
Fleet and Vehicle Maintenance
About Ps Doors
The company's product range includes dock and mezzanine gates, steel folding gate doors, roof hatch railing systems, traffic doors & bottom doors. The PS Doors Steel Folding Gates range includes standard (one-door), paired (two-door) and full height ladder safety gates. The full height version is self-closing and best suited for use on elevated platforms, ladderways and mezzanines. These units come with a 42 inch top rail, mid-rail and 5-inch safety toeboard for maximum personnel safety. PS Doors roof hatch railings feature a self-closing ladder door and horizontal grab bars for a stable railing grip and are available in 6 standard sizes to mount on the existing hatch curbings.

Things To Consider
Why Us?
Raptor Supplies, a trusted PS Doors distributor, offers its complete range of products. We can recommend suitable products for your diverse application requirements.
Shipping
These PS Doors products range from small to large sizes. They may require careful packaging as some items might get damaged while shipping. Hence, these PS Doors items are delivered by courier shipment and air freight for minimum downtime. Ideal for providing safety in loading docks, mezzanines or aisles where forklift traffic & machinery are present.
Major Trade Names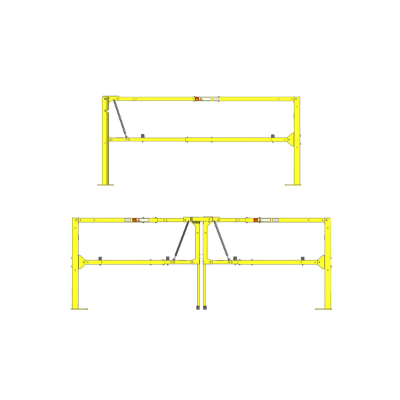 EdgeSafe Smart Gates
Unique design, with patent-pending features, offers ground-level protection as well as fall protection in low-height guardrail openings or exposed edges. Require one-hand operation to vertically lift (without pinch points). Come with a Lock-Out option to prevent unauthorised access, an operator push button (sold separately) to open / close gates and an optional toeboard for edge protection....Read more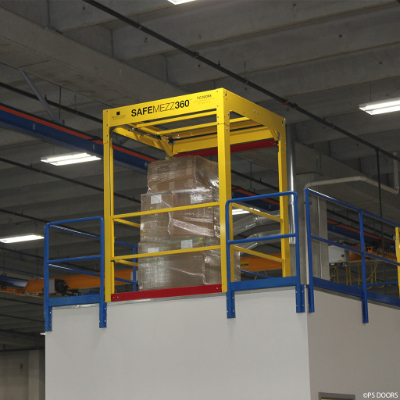 SafeMezz Mezzanine Gates
Dual-gate mezzanine systems widely used when loading or unloading forklift materials. Ideal for workspaces with limited headroom. Controlled by either pushing a button or pulling a cord. Available in widths ranging from 48 to 192 inches....Read more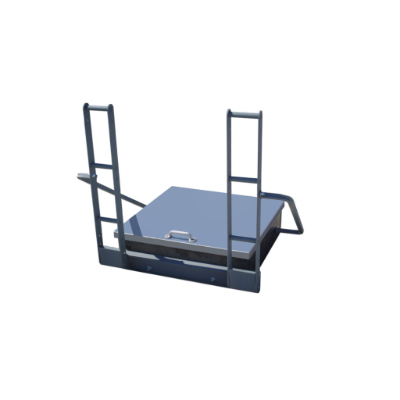 HatchGrip Ladder Extension Grips
Integrated with horizontal rungs to stabilise the personnel entering or exiting a roof hatch. Allow simple installation by bolting the roof hatch curbs with gaskets. Feature a support tube for better hand support while using the hatch curbs....Read more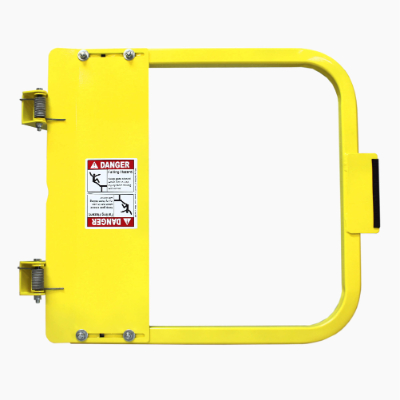 EdgeHalt Ladder Safety Gates
Patent-pending EdgeHalt ladder safety gates featuring Slam-Proof technology that closes the gate in a quiet and controlled manner. Come with an improvised torsion spring assembly for continuous operation in busy facilities. Can accommodate four gates within an opening width range of 15 - 50 inches (max adjustability 10 inches per gate)....Read more
Frequently Asked Questions
What is the OSHA requirement for safety gates?
According to OSHA reference 29 CFR 1910.23, every ladderway floor opening or platform must be guarded by a standard railing. Standard toeboards must be installed on all exposed sides (except at the entrance). A passage must be made through the railing and then equipped with either a swing gate or an off-set through which the personnel cannot walk-in directly.
What are horizontal grab bars?
The horizontal grab bars or rungs in HatchGrip ladder extensions ensure a firm grip for workers to safely enter or exit the roof hatch.