RUD CHAIN
Since 1875, RUD Chain Inc, a subsidiary of RUD Ketten, has been manufacturing high-quality chains, hooks, rings and other associated products for use in transportations, material handling & automobile applications. RUD Ketten Group was founded in Aalen, Germany. The RUD Chain catalogue includes tyre protection chains, conveyor systems, hoist chains & rings, mining connectors, flight bar chains, sprockets and pocket wheels. Read More
Material Handling
7103720
7103715
7100180
7100430
7100800
7100640
7100650
7999059
7999044
7999045
7999004
7999043
Material Handling
Filter
Weld-on and bolt-on excavator hooks used as lifting points on cross bars and beams, as well as on wire rope and round slings. Have a maximum working load limit of 15000 lb
Bolt-on, weld-on and screw-on hoist rings used to safely lift loads up to 69300 lb. Available in different variants offering 180-degree pivot and 360-degree foldable rotations
About Rud Chain
RUD Chain Inc supplies lifting points and chain accessories like screw-on, bolt-on & weld-on hoist rings and excavator hooks. The brand's hoist rings can pivot up to 360 degrees and safely lift loads up to 69300 lb. They feature adjustable brackets for attaching to machines or static loads. The brand also manufactures bolt-on / weld-on excavator hooks for acting as lifting points on cross bars, beams, wire rope slings and round slings. They provide a maximum working load limit of 15000 lb.

Things To Consider
Cross-Reference Alternatives
RUD Chain's model numbers generally cross individual reference to the equivalent Crosby MPNs (manufacturer's part numbers). So, if you're looking for hoist rings & hooks that are either out of stock or obsolete, chances are Raptor Supplies has the alternate product available.
Why Us?
Raptor Supplies, a trusted RUD Chain distributor, offers its complete range of products. We can recommend suitable products for your diverse application requirements.
Shipping
These RUD Chain products are generally small in size and require compact packaging. They are suitable for courier shipment and not air freight.
Major Trade Names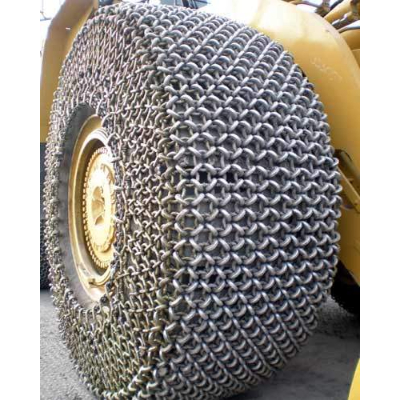 ERLAU Tire Protection Chains (TPC)
ERLAU tire protection and traction chains are used in mining, steel-making scrap handling, quarrying and demolition to prevent premature deterioration of tires due to sharp, jagged rocks and muddy, slippery surfaces. This chain system is made from a closed mesh of hardened steel chains that envelop both the tread & sidewalls of the tires. Their flexible design adjusts to every tire deformation without getting clogged to provide superior road holding & traction....Read more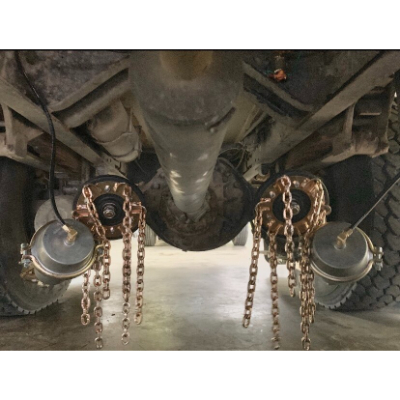 RotoGrip Automatic Snow Chains
RotoGrip automatic snow chains provide traction to tires on icy and snowy roads at the flip of a switch. These chains are useful for travelling during hazardous weather conditions. They save downtime & injuries as users using these chains do not need to stop to put them on by installing & removing the tire chain wraps....Read more
Frequently Asked Questions
What are some safety instructions to follow while installing or operating the Rud excavator hooks?
Keep all body parts & objects away from the lifting process danger area.
Users should not exceed loads beyond the working load limit (WLL) of the hook.
The hooks should not have any technical modifications.
The load should be stable when lifting. Swinging & jerky lifting must be prevented.
All components and the hook should be checked for cracks & wear.
The lifting points, chain, hooks & hoisting rings should not contact aggressive acids, chemicals & vapours.
What are the effects of temperature on the working of Rud excavator hooks?
Rise in temperature causes a decrease in the working load limit of the excavator hooks due to the DIN / EN bolts used as lifting points.
At temperatures ranging from -40 to 100 degrees C (-40 to 212 degrees F), there is no reduction in the working load limit.
At temperatures ranging from 100 to 200 degrees C (212 to 392 degrees F), there is a 15% reduction in the working load limit.
At temperatures ranging from 200 to 250 degrees C (392 to 482 degrees F), there is a 20% reduction in the working load limit.
At temperatures ranging from 250 to 350 degrees C (482 to 662 degrees F), there is a 25% reduction in the working load limit.
Users must not operate these excavator hooks at temperatures above 350 degrees C (662 degrees F).
Why are some Rud hoist rings coloured pink?
Selected Rud lifting points like ring bolts, eyebolts, flanges & more are pink in colour to showcase the brand's basic testing & certification principles. Rud launched fluorescent pink powder coated products in its Grade 10 materials for use as an overheating indicator. The pink powder coating changes its colour in environments having temperatures above 200 degrees C. The colour changes from pink to ochre, then to brown and finally at the prohibited temperature near 400 degrees C, the colour changes to black with blister formation. Due to this colour change, the overheated lifting points like hoist rings can be easily identified & replaced before any accidents.