SOCK IT OUT
Sock It Out manufactures industrial-grade screw and bolt extractors that are used to remove broken, rusted or stripped screws in machine shops, electronics manufacturing & repair and automotive maintenance operations. Read More
Machining
DEB-3
KIM-1
AVA-1
GIA-1
MIK-2
MIK-1
JEN-4
JEN-3
JEN-1
AMI-4
AMI-3
AMI-2
Machining
Filter
Designed to remove seized or broken screws in the automotive, manufacturing and construction industries. Feature an EPA-approved, corrosion-resistant plating to withstand the harsh industrial environment. Available in metric, SAE, Torx / drive set variants
+11

+8
About Sock It Out
The brand's screw extractor sets are ideal for removing broken / stripped button head & socket head caps, studs, bolts & flat head screws without drilling and feature tapered hex wedges for a positive, non-slipping engagement. They further feature hardened alloy tool steel construction for withstanding harsh industrial abuse & repeated usage. Choose from a wide range of these SAE, Metric and Torx / Star Drive screw extractor sets on Raptor Supplies.

Things To Consider
Cross-Reference Alternatives
Sock It Out part numbers often cross-reference to various Westward products. So, if you're looking for a Sock It Out product that is either obsolete or out of stock, chances are we have the equivalent item available.
Why Us?
We supply or source any US MRO part to over 60 countries worldwide. We got your MRO requirements sorted with over 5000 brands to choose from and above 2000000 products in our catalogue.
Shipping
These tools are small in size and require compact packaging. They are suitable for courier shipment & air freight.
Major Trade Names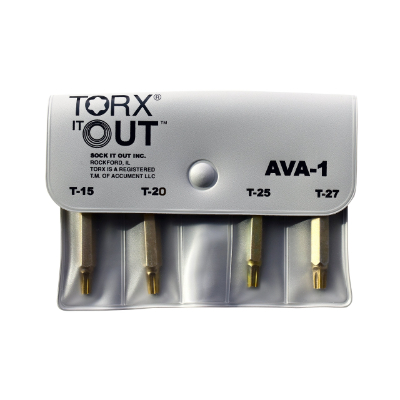 Torx Sock It Out Screw Extractors
These industrial-grade screw extractors with corrosion-resistant plating tolerate repeated use in different fastener applications. They offer a positive grip on 12 surfaces of the fastener, permitting more torque to be applied and removing the need for multiple tools and drilling on fragile components....Read more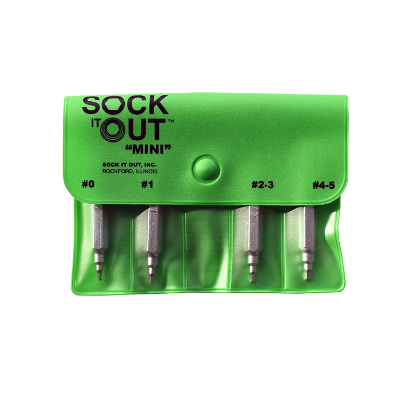 Mini Sock It Out Screw Extractors
These compact, industrial-grade screw extractors are durabile and versatile for use in small / tight applications. They feature small precision-machine tips suitable for delicate, unique and compact spaces where smaller fasteners are required....Read more
Frequently Asked Questions
What are metric screw extractors?
Sock It Out Metric screw extractors are precision-machined for metric screw extraction and offer durability and versatility, permitting users to use one tool frequently for different fastener applications.
What are Sock It Out standard screw extractors?
Sock It Out standard screw extractors come with corrosion-resistant plating designed to tolerate frequent use in different fastener applications. They remove the socket set, head cap, flat head socket cap and button head socket cap screws without drilling.