VIEGA PROPRESS
Viega ProPress is a plumbing solutions provider accredited with introducing press joining systems for the first time in North America. It has manufacturing plants in Germany, Denmark, Finland, Italy, Hungary, Netherlands, Norway, Poland, Sweden, Belgium, Canada, Australia & the United States. Read More
Plumbing
22248
22268
22258
22238
17778
17788
17768
17823
17818
17803
20823
20828
Electrical
15588
20685
20690
20700
20705
20720
20725
79855
79860
Plumbing
Filter
NSF-compliant stainless-steel / bronze / brass valves suitable for use with non-potable fluid supply lines. Feature a press-fit connection capable of bearing pressures up to 250 psi (CWP) and 200 psi (WOG)
Designed to isolate fluid / gaseous flows and restrict the flow of liquids through a section of the pipe. Feature a stainless-steel disc and stem to throttle or control fluid flow and an EPDM liner for leak-proof connection. Can fit pipe sizes ranging from 2.5 to 4 inches
Ideal for applications with output ranging between 1 & 9 watts. Equipped with an internally-mounted capacitor for direct mechanical interchanging with current shaded pole motors and allow mounting in both horizontal & vertical positions
Suitable for use as mechanical stops and bearing faces, as well as for locating components in motors without marring the shaft surfaces. Offered in quick clamp, set screw, one-piece clamp, threaded and two-piece clamp configurations
About Viega Propress
The Viega ProPress catalogue incorporates press-fit and conduit fittings; ball, butterfly, check & foot valves; and sanitary gaskets. NSF-approved Viega ProPress ball valves feature a pivoted ball for regulating fluid flow in non-potable fluid supply lines. They are offered in 316 stainless steel, low-lead bronze, lead-free bronze and brass variants and are capable of bearing pressure up to 250 psi (CWP) and 200 psi (WOG). The Viega ProPress Fittings catalogue includes elbows, adapter flanges, couplings, dielectric unions, reducers and tees featuring a press-fit connection and EPDM seals (on selected models) to provide a leak-proof connection with tubes or pipes.

Things To Consider
Cross-Reference Alternatives
Viega ProPress valves' MPNs cross individual reference to the equivalent Apollo, Val-Matic & Watts model numbers. So if you're looking for a Viega ProPress valve that is either out of stock or obsolete, chances are Raptor Supplies has an alternate product available.
Why Us?
We supply or source all US MRO parts to over 60 countries worldwide. We got your MRO requirements sorted with over 5000 brands to choose from and above 2000000 products in our catalogue.
Shipping
These Viega ProPress fittings are small & compact, making them suitable for standard courier shipment and not air freight.
Major Trade Names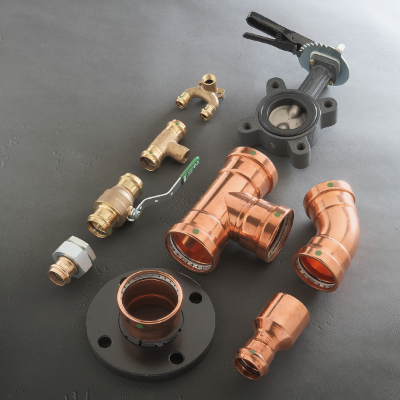 Viega ProPress Copper
Copper fittings ideal for copper pipe sizes from 1/2 to 4 inches. Come in more than 400 different configurations. Available with EPDM, FKM and HNBR sealing elements.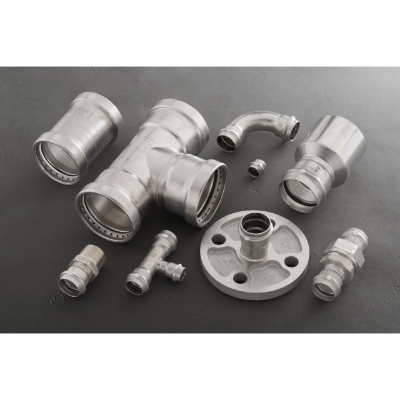 Viega ProPress Stainless
Stainless steel fittings ideal for 304 and 316 stainless steel pipes having sizes between 1/2 & 4 inches. Available in more than 350 different configurations. Approved for more than 800 applications.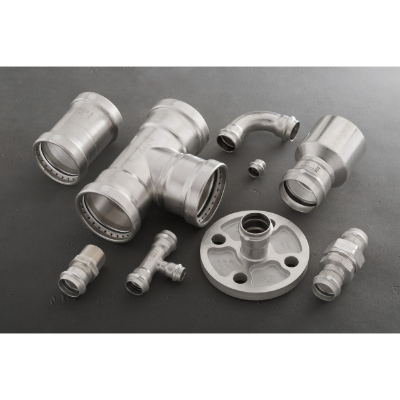 Viega ProPress 304 FKM
304 FKM stainless steel fittings for use on 304 stainless steel pipes. Approved for more than 400 applications ranging from fire protection to compressed air.
Frequently Asked Questions
What is the green dot on ProPress fittings?
A green dot on Viega ProPress fittings indicates Smart Connect technology with an EPDM sealing element.
How close can you press Viega fittings?
When welding a pipe adjacent to a pipe joined with a Viega ProPress fitting, installers must weld 4 inches away from the Viega ProPress connection to protect the sealing element.
Can Viega ProPress fittings be used underground?
Yes, they are approved for underground installations, as per Uniform Code and International Code listings.