Gasket Cutter Accessories
Filter

Gasket cutters & accessories are used to create gaskets from leather, rubber, plastic or other similar materials. Raptor Supplies offers a wide range of circular gasket cutters and accessories, such as scale bars, cutting blades, hardware kits, handles, shafts, cutting discs, thrust bearings, e...xtension arms. These circular gasket cutter kits & accessories are available in metric and imperial sizes from brands like Palmetto Packings and Allpax.Read more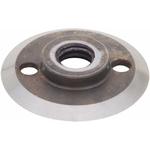 A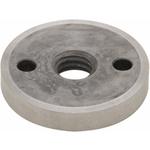 B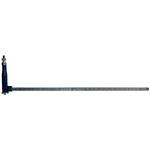 A

B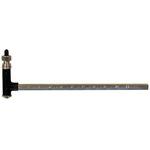 C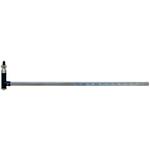 D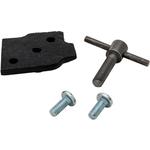 E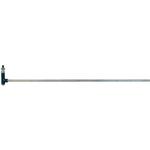 F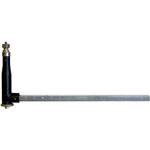 G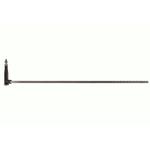 H
| Style | Model | Body Material | No Of Pieces | Height | Width | Length | Price | |
| --- | --- | --- | --- | --- | --- | --- | --- | --- |
| A | AX1473 | Steel | 1 | 8.25" | 1.25" | 23.5" | €375.59 | |
| B | AX1490 | Steel | 1 | 32" | 8" | 12" | €206.12 | |
| C | AX1410 | Steel | 1 | 4.5" | 1.25" | 13.5" | €240.17 | |
| D | AX1411 | Steel | 1 | 4.5" | 1.25" | 23.5" | €251.46 | |
| E | AX1451 | Steel | 1 | 6" | 3" | 3/4" | €35.60 | |
| F | AX1412 | Steel | 1 | 4.5" | 1.25" | 33.5" | €259.86 | |
| G | AX1472 | Steel | 1 | 8.25" | 1.25" | 13.5" | €366.53 | |
| H | AX1474 | Steel | 1 | 8.25" | 1.25" | 33.5" | €398.54 | |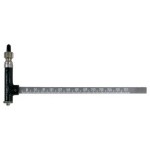 A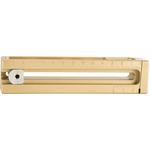 A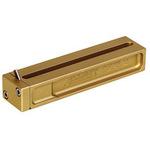 B
ALLPAX
-
Cutter Block Fastener Kit, 5-7/8 Inch Length x 3-1/8 Inch Width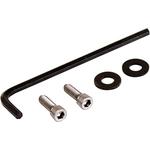 | Model | Item | Price | |
| --- | --- | --- | --- |
| AX1623 | AG8XUG | €5.78 | |
GOLDENROD
-
Gate Closer, Lag Screws

| Model | Item | Price | |
| --- | --- | --- | --- |
| 435 | AH3XTF | €26.38 | |
ALLPAX
-
Metal Top Cutting Disc, SM4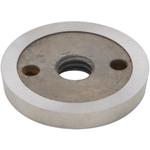 | Model | Item | Price | |
| --- | --- | --- | --- |
| AX1471 | AG8YCX | €73.12 | |
Gasket Cutter Accessories
Gasket cutters and accessories are used to create seals / gaskets of different sizes from metallic or non-metallic material. They offer gaskets with precise dimensions and clean edges to form a tight seal around the mechanical joints. These circular gasket cutters can cut thin metal and non-metallic materials such as cork, fibre, rubber, leather & more.
Allpax manufactures high-quality motorised rotary gasket cutters and hand-operated rotary gasket cutters for fabricating ring, flange & irregular shape gaskets. These rotary style circular gasket cutters can use both manual power or electric motors to cut out the required gaskets using cutting discs. These circular gasket cutters can be installed in vise and bench mounting configurations for low maintenance & long-term operation. They have a heavy duty, cast iron frame with precision steel components & heat treated rotary cutting discs for structural strength and preventing abrasion, bending or breaking under harsh usage.
Allpax also offers extension-style circular gasket cutter kits like 6000 Series circular gasket cutter kits for portable gasket cutting. These circular gasket cutter kits contain a cutter block with contoured edges & engraved scale for accurate cuts on a cutting board that further reduces blade friction & minimises gasket material breakage. The gasket cutting kits come in a rugged storage case for carrying out the cutting process anywhere. The kits also include diverse sized centre pins and cutting blades for holding & cutting out the gasket material of various thicknesses. Palmetto Packings handheld circular gasket cutter kits (Model 1119 and 1132) are used for scribing, layout work and cutting out round gaskets of 1 to 70 inch diameter from soft metals and non-metallic materials.
Raptor Supplies delivers accessories like extension bar, dovetail designer & bolt hole locators for creating large diameter gaskets and making them ready for use as a sealing tool. We also supply replacement parts like cutting disc, knurled nut & spindles for replacing old, damaged & worn out parts.
Uses
Circular gasket cutters and accessories are ideal for cutting precise circular joints or gaskets from leather, rubber, plastic and similar materials in food processing, marine, petrochemical, hospitality, paper & packaging and similar manufacturing industries.
Features
Circular gasket cutters and accessories are ideal for creating gaskets that seal up two mating surfaces under compression.
The metric-sized circular gasket cutters can cut out gaskets with diameters (cutting diameters) ranging from 6 mm to 1550 mm.
The imperial (SAE) type circular gasket cutters have 1/4 to 61 inch cutting diameters.
They can cut thin metal or non-metallic materials having depth / thickness in the range of 0.25 to 1.6 inches.
These circular gasket cutters feature cast iron / brass / aluminium / plastic construction. Cast iron body provides structural strength whereas brass, aluminium or plastic body provides corrosion resistance.
Scale bars are used by rotary style gasket cutters to determine the cutting diameters. Like circular gasket cutters, scale bars are also available in imperial and metric variants.
Raptor Supplies also offers steel cutting blades for replacing worn out cutting blades in extension-style circular gasket cutters (Allpax 6000 Series) and rotary-style circular gasket cutters (Allpax AX1402).
Working Mechanism
Users can operate rotary-style circular gasket cutters by following these steps:
Set outer diameter (OD) on the scale bar and pierce the gasket material at the centre using scale bar spindle & knurled nut.
Lower the cutting disc and apply pressure by either turning a hand crank or by using an electric motor.
Remove the excess material once outer diameter of the gasket is cut.
Adjust the scale bar again to the desired inner diameter (ID) and cut out the internal gasket material.
Remove the finished flange gasket.
Extension-style circular gasket cutters or gasket cutter kits can be operated by following these steps:
Lay out the gasket material flat on a cutting board and fix it at the centre using a centre pin & ferrule.
Set the required depth on the cutting block blade according to the thickness of the gasket material.
Adjust the cutting block to the desired outside diameter and fix the tail of the cutting block onto the centre pin. Use extension bars if required to increase the cutting diameter.
Apply downward pressure on the gasket material using a cutter block and sweep out a circular pattern. Remove excess material outside the circumference of the outer diameter.
Adjust the cutter block to the desired inner diameter (ID) and cut another circular material. Remove the finished flange gasket.
Standards and Approvals
Allpax circular gasket cutters meet OSHA standards to ensure a safe and hazard-free work environment.
Frequently Asked Questions
What are metal cutting snips?
Handheld metal cutting snips are used to cut sheet metal & non-metal materials to form irregular shape flange gaskets in metalworking, automotive and maintenance & repair applications. Their handles simultaneously squeeze their angled blade for precise cutting through the gasket material.
What is the difference between a rotary gasket cutter and an extension style gasket cutter?
A rotary style gasket cutter is widely used in applications having a permanent installation constraint, whereas the extension-style gasket cutter can be moved easily from one location to another for cutting large diameter gaskets. The latter, unlike the former, also requires the gasket material to be laid flat on a workbench or a dedicated gasket fabrication table.
How do I choose the right gasket cutter?
The first deciding factor that a user must consider is whether the assembly needs to be stationary or portable. In general, the extension-style circular gasket cutters are portable and lightweight. These electric gasket cutter kits are widely used to fabricate non-metallic or non-rigid gasket materials. The rotary gasket cutters on the other hand are heavier and require mounting or bolting on a vise or a workbench for fixed-location gasket cutting. These circular gasket cutters are suitable for metallic or rigid gasket materials, as well as cutting out irregular shape gaskets.
What are handheld gasket cutters?
Handheld circular gasket cutters are designed for cutting out gaskets with handheld tools to fit seals and offer a leak-proof surface. These circular gasket cutting kits require manual adjustments of knives, centre points and centre bars.