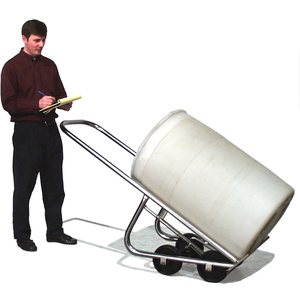 MORSE DRUM 160-SS 4 Wheel Drum Truck, Stainless Steel, 454 kg Capacity
Item: AF6EFQ
160-SS
Model: 160-SS
Cross Ref: 8CFV0
Product Specifications:
| | |
| --- | --- |
| Item | Drum Trucks |
| Capacity | 1000 lb. |
| Drum Dia. | 14" - 28" |
| Drum Size | 55 / 30 / 85 |
| Drum Type | Rimmed plastic, steel or fiber with sufficient rim excess |
| Height | 63" |
| Material | Stainless Steel |
| Type | 4-wheel |
| Wheels | Polyolefin |
Shipping Info:
| | |
| --- | --- |
| Ship weight (kg) | 34.2 |
| Ship height (cm) | 88.9 |
| Ship length (cm) | 63.5 |
| Ship width (cm) | 53.34 |
| HS code | 8716805010 |
| Country of Origin | US |
Product Details:
Drum hand trucks
are drum handling equipment which offer the ability to move industrial drums and barrels safely & easily. They are perfect for places where traditional machines cannot work due to space restrictions. Using these drum trucks, you can transfer a drum from a pallet to a dispensing position, or through narrow aisles.
Do your daily operations require moving heavy, loaded drums from one workstation to another? Are you seeking ways to provide a safe environment for your workers while ensuring utmost productivity during drum handling operations? We have the perfect solution for you.
Morse 160-SS 4 wheel drum truck moves large containers such as buckets, pails, drums or barrels. It is utilised for a range of applications including plastic manufacturing, food processing, metalworking, fleet maintenance, construction and pharmaceutical manufacturing. It features an innovative design that offers safety, versatility and ease of use. The ergonomic construction of this 4 wheel drum truck allows the user to easily load and unload drums, even when they are filled to capacity. This enables the operator to easily transport drums wherever needed, even down the narrowest of aisles.
Uses:
Ergonomically designed and extremely versatile, Morse 160-SS 4 wheel drum truck is made of 304 stainless steel and has bead blast finish. It is commonly used in food and pharmaceutical applications.
Features:
Morse 160-SS is a 4 wheel drum truck used to move heavy drums in the food and pharmaceutical industries. It can easily handle 114 litre (30 gallon), 208 litre (55 gallon) and 322 litre (85 gallon) drums and can be used with rimmed fibre, rimmed plastic, rimmed poly, rimmed steel, overpack and salvage barrels.
This Morse drum truck is made of corrosion resistant, 304 stainless steel and features 4 hard polyolefin wheels (having a diameter of 8 inches) for use on level flooring and in narrow aisles. It can dispense from a height of 32.4 cm, for pouring liquids effortlessly, without using pumps or hoses.
The user does not need to balance or support drum weight as the truck carries the full weight of the drum.
It features a chime hook fixed on the upper rim of the drum, which is used for loading and unloading barrels.
This ergonomic, stainless steel drum truck by Morse has an extra long, U shaped knuckle handle for better grip and steering control.
Morse 160-SS stainless steel drum truck comes incorporated with forged steel toe prongs that are wide and rounded to protect drums. They are shaped to ensure easy pickup of drums.
It can stand on 4 wheels, or upright on 2 wheels, for convenient storage.
This unit can handle drums having diameters of 14 to 28 inches (35.6 to 71.1 cm), and heights of 31 to 41 inches (78.7 to 104.1 cm).
Compatible Accessories:
Morse 5058-P Straps: These straps are designed to handle a rimless plastic drum using Morse 160 Series, 4 wheel drum trucks. These straps conform to containers / drums to provide maximum contact and reduce drum damage. These straps also allow the user to accommodate almost any cylindrical object that is smooth-sided.
Standards and Approvals:
Morse 160-SS stainless steel drum truck is manufactured in accordance with ANSI / AWS D1.1 welding standards.
Installation:
Morse 160-SS 4 wheel drum truck is supplied completely assembled, which means the operator will require little to no effort in setting up the unit.
Additionally, Morse 5058-P strap kit can be installed to handle a rimless plastic drum or a drum shorter than 31 inches (78.7 cm), in order to enhance the functionality of Morse 160-SS 4 wheel drum truck.
Frequently Asked Questions:
Q. In addition to drum hand trucks, does Morse offer other drum handling equipment as well?
A. Yes, Morse offers an entire catalogue of drum handling equipment including drum carriers, dollies, rotators, rollers, trucks, lifters and tumblers. Looking for something that is not in our catalogue? Fret not. Connect to our customer executives who are available 24x7 to find out if the product is still available or what alternative products might exist. Raptor Supplies has a dedicated procurement team to help customers source US replacement parts and products not available in our online catalogue. We can also source obsolete or discontinued products without much hassle.
Q. Is this model ideal for use in rough terrain?
A. Morse offers 160-WP-SS drum truck with similar specifications as that of Morse 160-SS stainless steel drum truck, for use in rough terrains. One distinguishing feature that makes it different is its 10 inch pneumatic wheels that are mounted outside the frame, allowing the unit to travel over rough terrain or grating.
Q. Why should I buy a Morse hand truck?
A.
Built to last, they are strong enough to handle daily grind.
They reduce the risk of injury since less physical effort is required to move loads.
They have toe prongs that have been specifically shaped to be wide and rounded, to ease the loading the drums and protect them from damage.
Morse hand trucks can carry the full weight of a drum so that the operator doesn't have to balance or support drum weight.
Q. Are there any other models similar to Morse 160-SS?
A. Yes, Morse has you covered for every situation. You can browse through the extensive 4 wheel drum truck catalogue to find something that precisely fits the needs of your business. If your tasks require a model with spark resistant properties, then you should consider Morse 160M 4 wheel truck that also features powder coating for durability.
Q. How do Morse drum trucks work?
A. Morse drum trucks are tilted back and balanced on their wheels so they can be rolled from one place to another. There are distinct features and functionalities to every drum truck Morse manufactures. On our product pages, you can find data that provides detailed information for each product.
Q. What drum handling safety procedures should I be aware of, while using Morse 160-SS stainless steel drum truck?
A. It is always advisable to move heavy drums with drum equipment designed specifically for that purpose, such as Morse 160-SS stainless steel drum truck. When handled incorrectly, a heavy drum can cause serious injuries, get damaged, waste valuable contents or even contaminate the environment. The use of drum equipment and proper methods of handling drums must be taught to all employees.
Contact us
Contact your account manager right away to get personal advice.
We're available Monday through Friday, from 07:30 until 17:00.
MORSE DRUM 160-SS 4 Wheel Drum Truck, Stainless Steel, 454 kg Capacity