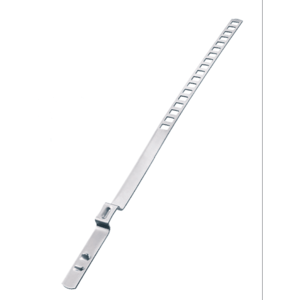 OETIKER 15900004 Hose Clamp, SS, Range 40 - 110 mm
Item: CD4QRN
15900004
Model: 15900004
Product Specifications:
| | |
| --- | --- |
| Item | Ear Clamp |
| Band Thickness | 0.031" |
| Band Width | 0.27" |
| Ear Width | 8.5 mm |
| Lock Type | Outside Interlock |
| Material | Stainless Steel, Material no. 1.4301/UNS S30400 |
| Pack Size | 100 |
| Size Range | 40 mm to 110 mm |
Shipping Info:
Product Details:
A hose clamp attaches to a hose fitting such as a nipple or barb. Using a hose clamp ensures that hose configurations are sealed & stabilised, and prevents fluids from escaping. These clamps ensure equal pressure all around and prevent gaps for fluids to escape, that may otherwise lead to dangerous leaks.
Oetiker 15900004 adjustable clamp is ideal for soft materials. This clamp is designed for simple and fast installation. It features a visible deformation of the ear to provide evidence of proper closure. Oetiker 15900004 has burr-free edges to reduce the risk of damage to parts being clamped.
Uses:
Oetiker 15900004 adjustable clamp can be attached to a hose fitting such as a nipple or barb, to seal and stabilise hose configuration. It stops fluid from leaking or spilling. Oetiker 15900004 is suitable for clamping hoses in agricultural, automobile, heating & cooling applications, and is ideal for both indoor and outdoor use.
Features:
Oetiker 15900004 adjustable clamp features a flexible design that allows adjustment to several nominal diameters.
It comes with an inner ring having radial guidance to provide effective all around sealing.
Oetiker 15900004 offers simple & fast assembly and features a visible deformation that provides evidence of proper closure.
It has burr free strip edges that ensure reduced risk of damage to parts being clamped.
The Connecting technology makes Oetiker 15900004 adjustable clamp ideal for soft materials.
Compatible Accessories:
HMK 01 Manual Pliers: These pliers are used in conjunction with Oetiker 15900004 adjustable clamp and have a straight clamping jaw for operation.
HO 3000 ME Pneumatic Ear Clamp Pincers: These pneumatic pincer systems allow uniform installation of Oetiker 15900004 adjustable clamp. These pincers provide optimum closing force for crimping clamp ears & tightening clamps around hoses. They are suitable for squeezing force of approximately 3000 N.
CP 01 Cordless Clamp Pincers: These cordless clamp pincers have a lightweight & ergonomic design for free motion during clamp assembly. They offer unrestricted operation at any location.
Standards and Approvals:
Oetiker 15900004 hose clamp is engineered in compliance with DIN EN ISO 9227 international standards for ensuring corrosion resistance & durability. Oetiker hose clamps & accessories meet the requirement of standards like IATF 16949:2016 and ISO 9001:2015, for ensuring environmental health and defect free, superior performance of the clamps.
Installation:
A tab formed on the inner side of Oetiker 15900004 adjustable clamp locates in a slot on the outer surface of the band.
The tab slides into the aforementioned slot during assembly and closure, avoiding any steps around the inner circumference of the clamp.
Note: Oetiker 159 Series clamps are supplied flat. The clamp must be shaped prior to assembly. Each incremental step of the interlock reduces the diameter before closure, by approximately 1.6 mm.
Frequently Asked Questions:
Q. How to properly position a hose clamp?
A. Hose clamps come in diverse shapes, styles & sizes. However, the majority of them follow the same process for proper fitting on a hose and tube / pipe fitting. Once the hose is pressed securely onto the mating part, the hose clamp is positioned toward the end of the hose, with approximately 1/4 inch space between the clamp and the end of the hose.
Q. Can Oetiker clamps be reused?
A. Yes, Oetiker hose clamps like worm drive, StepLess screw & V clamps are reusable. They can be easily opened & installed anytime the requirement arises, especially for maintenance & servicing in manufacturing & automotive facilities. These clamps can also be installed both radially and axially. Users can also choose Oetiker 2 ear clamps for applications that require permanent clamp installation.
Q. What are some general safety tips to follow when using Oetiker 159 Series adjustable clamps?
A.
Wear safety glasses or goggles, or a face shield with safety glasses or goggles.
Work holding requirements for the job should be matched with the following clamp features to select the proper clamp style and size: strength and weight (eg: consider the size and nominal clamping pressure), opening (length of reach), throat depth (depth of reach), and ease of adjustment & clamping surfaces (materials used and size).
Dispose off clamps with bent frames and replace bent spindles, if possible.
Ensure that the pressure plate and anvil parts of the clamp are in full contact with the workpiece before tightening.
Remove clamps as soon as the job is finished, since they are only meant to serve as temporary devices for holding workpieces securely in place.
Keep all moving parts of clamps lightly oiled and keep tools clean to prevent slippage. Also, make sure that there is no dirt or oil on any part that will come into contact with the workpiece.
Q. What types of hose clamps are suitable for marine applications?
A. One should always use hose clamps manufactured of high-grade stainless steel (such as 316 stainless steel), for use in marine applications.
Q. How to choose an Oetiker hose clamp?
A. To check the size requirement, install the hose on a pipe or fitting (which expands the hose), then check the outside diameter of the hose. Select a hose clamp that supports the hose diameter in its clamping range.
Contact us
Contact your account manager right away to get personal advice.
We're available Monday through Friday, from 07:30 until 17:00.
OETIKER 15900004 Hose Clamp, SS, Range 40 - 110 mm