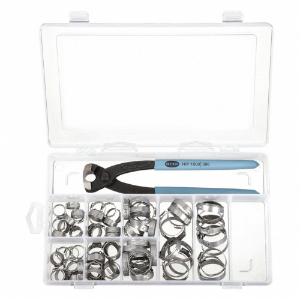 OETIKER 18500060 Welding Hose Repair Kit, Stainless Steel, One-Ear Clamp
Item: AC3AKK
18500060
Model: 18500060
Cross Ref: 2PU26
Get it by Oct 6, Thursday
Product Specifications:
| | |
| --- | --- |
| Item | Hose Clamp Assortment |
| Finish | Plain |
| Material | Stainless Steel |
| Number of Pieces | 81 |
| Number of Sizes | 8 |
| Pack Size | 1 |
| Type | Stepless 1 Ear |
| UPC | 655595100880 |
Shipping Info:
| | |
| --- | --- |
| Ship weight (kg) | 1.02 |
| Ship height (cm) | 1.8 |
| Ship length (cm) | 10.8 |
| Ship width (cm) | 6.81 |
| HS code | 7326908588 |
| Country of Origin | US |
Product Details:
This Oetiker 18500060 StepLess one ear clamp kit contains 10 each of stainless steel StepLess one-ear clamps (sizes: 1/2, 9/16, 5/8, 23/32, 7/8, 1, 1-1/8 and 1-1/4 inches) and a pair of standard jaw pincers for clamping hose clamps in a variety of diameters. The clamps have a dimple on the ear to increase clamping force for a more secure hold and a mechanical interlock to assure that clamps stays closed. These stainless steel ear clamps resist scaling and corrosion for at least 1000 hours of exposure to salt spray. With this clamp kit, you can attach a variety of hoses to fittings or other devices in hydraulic, irrigation, food processing & auto manufacturing applications. These stainless steel hose clamps prevent leaks in hoses & tubing and can also be used to attach wires & hoses to fittings. They distribute uniform pressure over the circumference of the hose to bind it to the fitting.
Uses:
Oetiker 18500060 StepLess one-ear clamp kit is used for mounting, strapping, clamping and positioning hoses or wires. It is commonly used in hydraulic, irrigation, food processing & auto manufacturing applications.
Features:
Oetiker 18500060 StepLess clamp kit is suitable for use with hydraulic, coolant & fluid lines for repair operations in industrial, irrigation, automotive and hydraulic equipment.
The plastic case contains one standard jaw pincer and 10 each of StepLess one ear clamp having sizes - 1/2, 9/16, 5/8, 23/32, 7/8, 1, 1-1/8 and 1-1/4 inches.
These stainless steel one-ear clamps come with indentations for a secure hold and mechanical interlock for maximum workpiece grip & slippage proof operation.
Oetiker 18500060 kit features a StepLess design for eliminating steps and overlaps on the clamp's inner circumference to ensure consistent 360 degree pressure and a leak-free seal.
Oetiker StepLess screw clamps are made of stainless steel for resisting corrosion on exposed surfaces and feature a screw type tightening mechanism that enables them to fit into a wider range of hose diameters in comparison with same sized ear clamps.
The tightening mechanism is self tensioning to accommodate variations in diameter due to thermal cycles.
Oetiker StepLess screw clamps come equipped with burr free strip edges that provide complete protection of clamped parts from scarring or mechanical damage.
The jaw pincer is equipped with large insulated handle grips for user comfort and protection against electrical shocks & industrial hazards.
Compatible Accessories:
HMK 01 Manual Pliers: These manual pliers are ideal for use with Oetiker 18500060 StepLess clamp kit and have a straight clamping jaw for operation.
Silicone hoses & EPDM rubber: Oetiker 18500060 StepLess clamp kit is compatible with silicone hoses & EPDM rubber to provide excellent sealing against loss of air, liquids or gases in low pressure applications.
Standards and Approvals:
Oetiker ear style clamps are engineered in compliance with DIN EN ISO 9227 international standards for ensuring corrosion resistance & durability. Oetiker hose clamps & accessories meet IATF 16949:2016 and ISO 9001:2015 standards for ensuring environmental health and defect free, superior performance of the clamps.
Installation:
Oetiker 18500060 StepLess clamp kit has ear clamps that can be tightened around the attached hose using specialised pincers (included in the kit), which force the sides in on themselves.
Users must ensure that the clamps are only crimped with a single tool stroke. If users apply more force, they might damage the clamp.
Frequently Asked Questions:
Q. What types of clamps does Oetiker offer?
A. Oetiker offers a wide range of clamps including screw, ear, spring, wire, worm gear and plastic clamps.
Q. How do you remove an Oetiker clamp?
A. Tools like a rotating / bowl nose / side cutter can be used for removing Oetiker clamps. However, rotating cutters are not recommended as they might tamper or damage the hose while cutting the clamp.
Q. Can Oetiker clamps be reused?
A. Yes, Oetiker hose clamps like worm drive, StepLess screw & V clamps are reusable. They can be easily opened & installed anytime the requirement arises, especially for maintenance & servicing in manufacturing & automotive facilities. These clamps can also be installed both radially and axially. Users can also choose Oetiker 2 ear clamps for applications that require permanent clamp installation.
Q. How to tighten an Oetiker clamp?
A. To tighten a clamp, squeeze the clamp with one hand so that the end opposite the driver slides into the sleeve holding. Turn the driver clockwise with a wrench or screwdriver so that the threads present on the driver engage the slots on the clamp. Continue turning the driver until the clamp tightens around the hose tightly and securely.
Q. How to choose an Oetiker hose clamp?
A. To check the size requirement, install the hose on a pipe or fitting (which expands the hose), then check the outside diameter of the hose. Select a hose clamp that supports the hose diameter in its clamping range.
Contact us
Contact your account manager right away to get personal advice.
We're available Monday through Friday, from 07:30 until 17:00.
OETIKER 18500060 Welding Hose Repair Kit, Stainless Steel, One-Ear Clamp